The Member-To-Member Discount Program encourages Chamber members and their employees to prefer other Chamber members when making buying decisions. The Program is a great way to attract customers, build relationships with customers, save money and strengthen our local economy.
 What types of discounts can be offered?
Any! Some that could be offered include a percentage off the purchase price, such as a 10% off car detailing or 10% off dry cleaning. You could also offer a "Bonus".  For example, if you operate a restaurant, you may want to offer a "Free" dessert with a customer's meal.  Be creative! You may want to keep in mind that to be effective and popular, the discount or bonus should be substantial enough to attract attention. The Noble County Chamber of Commerce will promote this program and your discount at every opportunity, including monthly membership mailings, email blast, e-newsletter, new- member packets and on our website.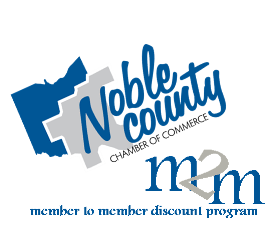 The member must be in good standing with the Noble County Chamber of Commerce.
The participants must offer an exclusive discount/promotion to Chamber members, over and above what non-members would receive.
The participant can review and revise their offer for the Member-To-Member Discount Program every six months. The participants agree to abide by their discount/promotion and fully understand that it is their responsibility to notify the Chamber of any and all changes.
The participants agree to educate employees about the Member-To-Member Discount Program.
Connect to the collective power of the Noble County Chamber membership through the Member-To-Member Discount Program. If you would like to participate, submit the application.  The Noble County Chamber staff will take it from there.
CURRENT MEMBER TO MEMBER DEALS
360 Window Fashions
20% off Retail price of Custom Blinds and Drapery.
Take Shape for Life
Take Shape for Life is offering the members $25.00 off  your second order and on your first two orders you will receive 28 free meals.
NOE Office Equipment
NOE Office Equipment is offering significant discounts on office supplies and furniture.  Up to a 50% savings on Toshiba Copier and Fax Machines and Standard Duplicating/Finishing machines.