Welcome to the Noble County Chamber of Commerce! 
In 1971, a group of area businesses and professional people in our community joined together to find ways to advance and enhance Noble County.  Since that time, the Noble County Chamber of Commerce has been working to improve the economic well-being of our community by coordinating ideas, energy, and financial resources to accomplish collectively what none of us could accomplish individually.
We are located in the heart of the beautiful rolling hills of Appalachian Ohio.  We serve Caldwell, Belle Valley, Batesville, Dexter City, Summerfield, Harrietsville, Ava, and Sarahsville.   In Noble County you can find anything from North America's very first oil well to the crash site of the U.S.S. Shenandoah.
Noble County is known for its hunting, fishing, outdoor activities, "picking" & antiquing, old fashioned friendly folks within villages full of charm, character and history ready to do business with you.  Noble County is a place to develop business and raise a family with peace of mind and security within a charming and vibrant atmosphere that our community offers.
We invite you to join us as we continue to support commerce and promote growth to enhance the quality of life in Noble County.
*************************************************************************************************
The 2023 Visitors Guide is out and available.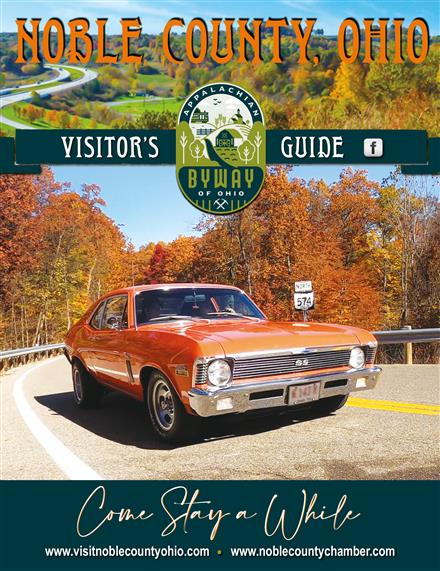 2021 Noble County Chamber Directors
Executive Committee
Richard Rutherford – Chair, Joann Steed – Treasurer,
Bryan Chandler, Sherri Starr, Mike Buckey, Darlene Miser- Past Chair
Directors
 Guy Carpenter,  Brandon Crock,
Jordan Croucher, Chris Lashley, Braun Schwieterman,
Trevor Black, Jamie Smith
Ex-Officio Directors (non voting members)
Economic Development – Gwynn Stewart
Local Government – Noble County Commissioners
Community Improvement – Richard Rutherford
Future Workforce/Education – Justin Denius/Gregg Gifford